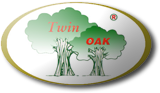 For over a decade, We continue to uphold our position as one of Thailand's high standard canneries for agribusiness by providing consistent, high quality product to consumers under "TWIN OAK" and "TPF" brand and supplying many customers worldwide for their own brands.

The factory is located in Lamphun province, the northern region of Thailand. This area is well known for the excellence & abundance of exotic fruits & vegetables.

To ensure that our product are high in quality, hygienic, nutritious and safe, We have stringent quality control in every step ranging from supporting good quality seed and knowledge to our farmers at the beginning stage to harvest. After that only the freshness & finest raw materials are selected, prepared and packed. Then our products are ready to be delivered to customers around the world.Today, we have a production capacity 100 tons/day. Over 90% of all products exports to international markets.